30% OFF NOW!!! - Solar Torch Landscaping Light Kit 2 Pack (US only) -YYB0180
🧡【

GORGEOUS FLICKERING FLAMES STYLE】-Solar powered LED torch garden lights cast ambient light to give a warm, glowing accent to your outdoor space. Our torches have a unique DC Charging capability via a USB cable which enables them to be used in less sunny areas or for indoor use, camping or picnics.
💚【

INCOMPARABLE VERSATILITY, USE IN SUNNY OR NON-SUNNY LOCATIONS WITH MULTIPLE MOUNTING OPTIONS】-These solar powered landscape lights may never need to be plugged in sunny locations. In less sunny or indoor locations, these torches can be charged via the USB port of your phone charger. They can be mounted in the ground (36″ stakes!), or on the side of a building using the included L-bracket or on a flat surface using the standard bracket.
💙【

HOURS OF CONTINUOUS DANCING LIGHTS】-The unit turns on at dusk and off at dawn. The powerful built-in rechargeable low voltage Li-ion battery (2200mAh) and light sensor allow for up to 12 hours of use on a full 8 hours of solar charge. A DC charge of 8 hours will deliver up to 72 hours of continuous lighting!
❤️【

WEATHERPROOF & WATER RESISTANT】-These bright outdoor lights were designed to weather the elements, they are sealed and self-contained, designed to last for long-term use without replacement or maintenance. For indoor operation with other ambient light, remember to cover the solar panel.
💜【

WORRY FREE INSTALLATION】-Enjoy these decorative lights with confidence because they need no special tools or equipment to install outside and there are no wires, strings, or cables to route in your yard.
ORDER YOUR STEADYDOGGIE SOLAR TORCHES TODAY!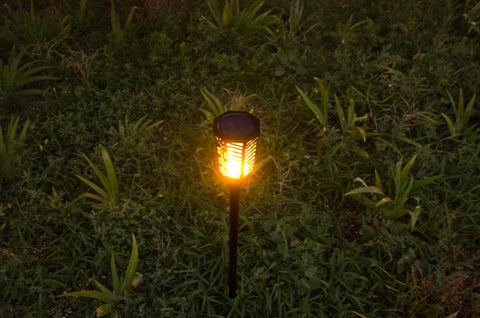 PRODUCTION DESCRIPTION
EYE CATCHING & VERSATILE FLICKERING FLAME ACCENT LIGHTS
Our flickering flame accent lights can be mounted on stakes up to 36 inches, flat on a table top, or on the side of a building with the included L-Brackets. They can be charged on solar throughout the day, or charged with the USB cable on your phone charger. 
SOLAR OR MANUAL DC CHARGED VIA USB CABLE
Our torches have 2200mAH batteries, so they'll last through the night. The battery is charged throughout the day using solar power, or with the included DC charging cable. Being able to charge these lights manually by plugging them in makes them perfect for travel, picnics or camping.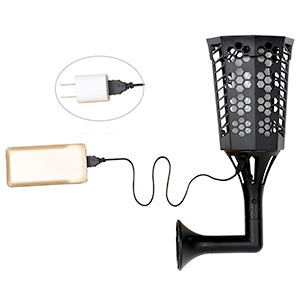 3-WAY MOUNTING SYSTEM
Where you mount your torches is limited only by your imagination! We include extension stakes so you can mount them at the height you'd like up to 36 inches. Also unique to our package is the mounting kit that includes a straight ground stake option, mount for a flat solid surface and an L bracket to mount on the side of a structure.
FLICKERING FLAME DESIGN
These attractive torches with dancing flames look great in any garden, with an attractive matte black finish and an warm flickering flame LED light. They make the perfect accent for your patio, deck, or sidewalk.
EASY INSTALLATION
These solar torches can be installed using the included stakes with no additional tools, wiring.
ORDER YOUR STEADYDOGGIE SOLAR TORCHES TODAY!