Solar Lantern Hyacinth White & Metal and Glass Construction
🧡【AN IDEAL GIFT FOR THE FAMILY】 - a pleasure to receive on any occasion and to enjoy all year round.
💚【SMART DESIGN WITH ANTIQUE NAUTICAL FEEL】 - a weatherproof outdoor solar lantern of antique design.
💙【ENTIRELY SOLAR POWERED】 - innovative technology with solar panel, rechargeable battery with flickering LED. For indoors, use a normal AA battery (not included)
❤️【NO ADDITIONAL WIRING OR INSTALLATION】 - simply place solar lantern in a location with good direct sunlight during the day and away from light sources at night.
💜【SAVE THE ENVIRONMENT AND SAVE MONEY】 - switch to solar power. 
ORDER YOUR STEADYDOGGIE SOLAR LANTERNS TODAY!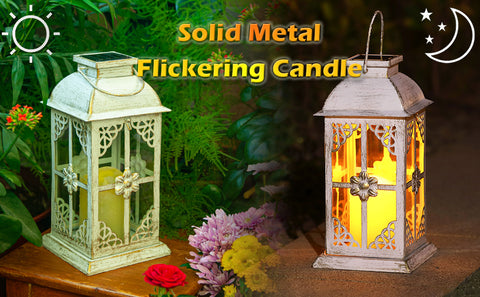 PRODUCT DESCRIPTION
THIS IS THE ONE FOR YOU!
An ideal gift that ticks all the boxes - A SteadyDoggie Solar Lantern!
LIGHT UP YOUR SEASON
This hand crafted mission style solar lantern delivers a wonderful ambience to your patio, lawn or garden. An attractive all weather garden lantern in a solid metallic casing with real glass panes measuring 14 x 14 x 28 cm (5.5 x 5.5 x 11 in.) Ivory white with golden brush finish.
SMART DESIGN WITH ANTIQUE CHARM
Modern functionality encased in period charm, this solar lantern is constructed from a solid metallic casing with glass panels throughout. A realistic candle which is powered by an amber LED delivers a flickering effect just like the real thing without the mess.
SIMPLICITY AND CONVENIENCE
Entirely solar powered, no installation or additional wiring is necessary for this pleasant garden ornament. You just simply place the solar lantern outdoors in a sunny location and enjoy the lantern lighting from dusk. During the day, the solar panel converts sunlight to electricity and recharges the battery. At night, the lantern turns on automatically with the electricity stored during the day.
SAVE THE ENVIRONMENT AND SAVE MONEY
We strongly believe in the environmental benefits of solar power and will endeavor to sustainably fulfil our needs with the development of innovative, high-quality and reliable solar-powered products with low operating costs. Save the environment and save money by switching to solar power.
ORDER YOUR STEADYDOGGIE SOLAR LANTERNS TODAY!