Wind Spinner Iris 61in Single Blade Easy Spinning
🧡【LIVEN UP YOUR GARDEN AND IMPRESS YOUR NEIGHBORS】– Add character to your garden with our yard art wind spinner and add a touch of ambience to your patio, lawn or garden. Relaxing to watch while spending time out on the sun porch or yard. Would look amazing in any flower garden or backyard - an ideal gift for garden lovers.
💚【EASY SPIN FUNCTIONALITY WITH CHARACTERISTIC CHARM】– Our solar wind spinner has a solid metallic construction with easy spinning golden brushed color blade which smoothly rotates on sealed bearings. Our yard wind spinners have a stability stake at the base to ensure its firmly planted for windy days.
💙【EASY TO ASSEMBLE INSTRUCTIONS FOR SIMPLICITY AND CONVENIENCE】– Easy to assemble with easy to follow instructions. Simply position outdoors in a location even in light breeze using the metal stake and enjoy your garden ornament as it spins mesmerizingly.
❤️【GOLDEN POWDER COATED FINISH ON THE WIND SPINNER BLADE】– Built to withstand all weather, the sold ground stake and wind blade of our kinetic metal wind spinners come with an golden powder coated finish of about 13 inches in diameter wind blade. A wonderful addition to any garden and would stand out beautifully against a snowy landscape.
💜【YOUR WIND SPINNER IS BACKED BY 12 MONTHS GUARANTEE】– SteadyDoggie products are built to stand the test of time. If you're not 100% satisfied with your purchase we have a no questions asked refund policy.
ORDER YOUR STEADYDOGGIE WIND SPINNERS TODAY!
PRODUCT DESCRIPTION
ADDS CHARACTER TO YOUR GARDEN
Our hand crafted wind weather spinners are a wonderful addition for your patio, lawn or garden. An attractive all weather wind spinner that provides a mesmerizing display of movement.
MODERN FUNCTIONALITY WITH ANTIQUE CHARM
Offering modern functionality with period charm, our lawn wind spinners feature an golden powder coated color in solid metallic construction. It delivers natural movement whenever the wind blows.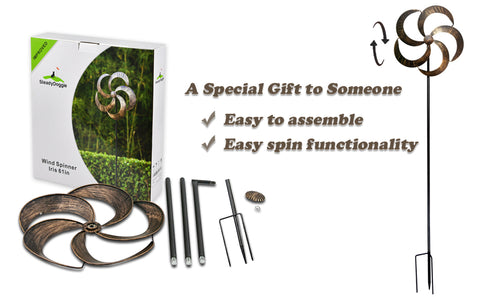 EASY TO ASSEMABLE – HASSLE FREE INSTRUCTIONS
With easy to follow instructions for installation, no additional tools are necessary. Simply position outdoors in a location using the ground stake and enjoy the kinetic movement of our outdoor wind spinners in the slightest of breeze.
QUALITY YOU CAN DEPEND ON HELP SAVE THE ENVIRONMENT AND SAVE MONEY
As a Company, we are committed to deliver quality & value. Your purchase is backed by our 12 months warranty. You can safely purchase without any risk.
ORDER YOUR STEADYDOGGIE WIND SPINNERS TODAY!